Virtual Reality Trainings

In these turbulent times, it is particularly important to rethink old ideas and dare to try new things.
Many companies were quick to have their employees work from home and switch to Zoom, Teams and Skype.
And what happened to training and coaching sessions?
Either they're not held at all, or they are also restricted to these digital platforms. Seminars and workshops that would otherwise be held in person with group interaction have been offered digitally since March 2020. But many companies grew tired of Zoom and Teams after just a few months, since the options for holding seminars are very limited.
At Genius Coaching & Training GmbH, we thought outside the box, beyond the confines of the "new normal"...and then put our ideas into action.
We were one of the first companies in Germany to make use of the training and certification program for VR trainers and we have already begun running our first virtual training and coaching sessions.
We achieve learning results through interactive and constructive work in the virtual world.
When we use virtual reality, the participants are placed in virtual training and learning spaces.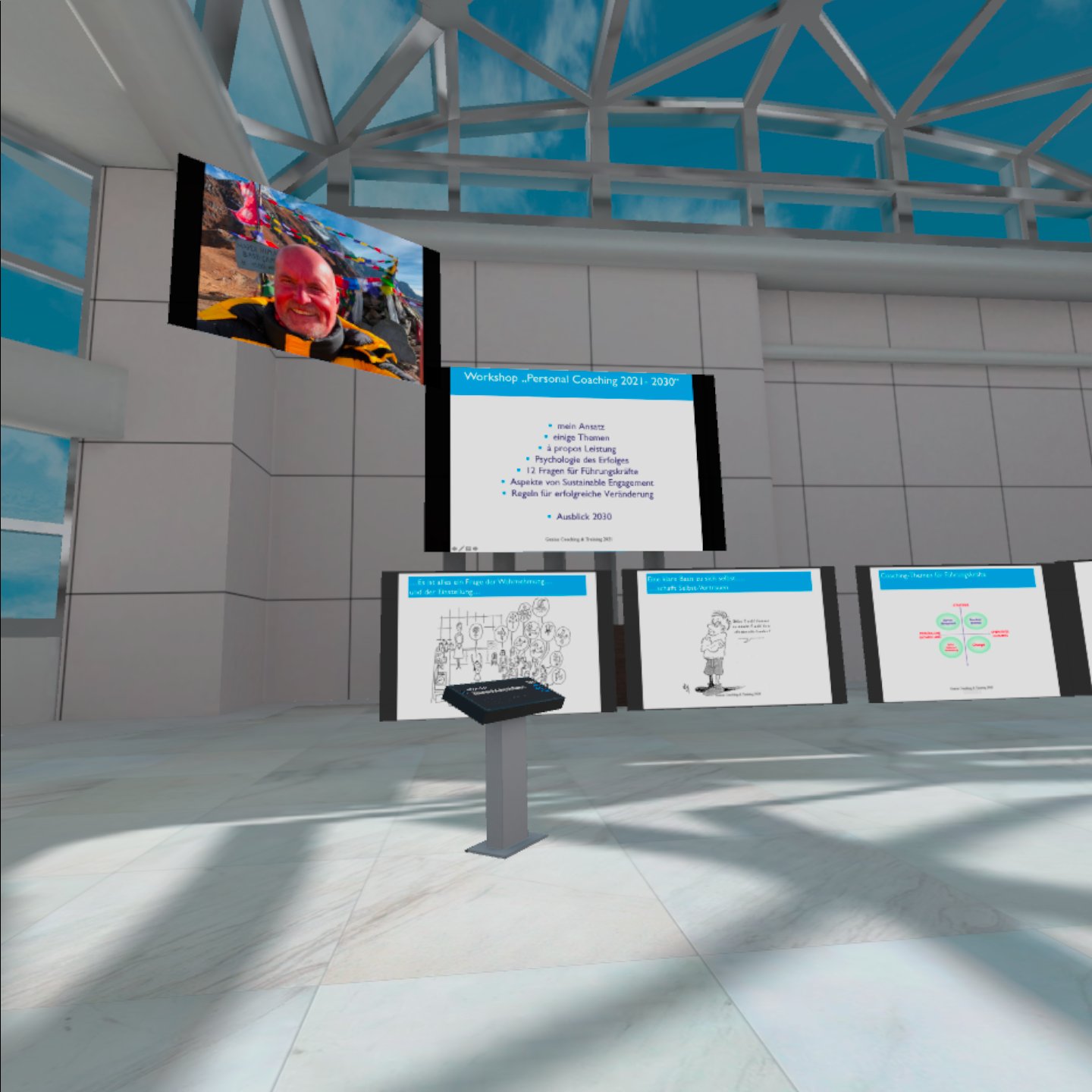 These can be designed and prepared individually. Participants can move freely about the learning spaces, make contacts and engage in dialog...and even return to these spaces after the training session as needed. This makes group work or individual activities possible...until the next workshop in the same space, the same environment, the same room.
What sets this style of learning apart?
Training sessions held in virtual reality allow for more interactive and constructive work than training using conventional rooms and media. None of the participants are sitting still: they actually move their own bodies as they move around in the virtual world. This type of "experiential learning" generates much more intense stimuli. VR researcher Jeremy Bailenson from Standford University has proven that we retain knowledge acquired in this manner particularly well.
Advantage 1: VR training is flexible, i.e. independent of time or place
Anyone can participate in VR training from wherever they happen to be...even when working at home. Nevertheless, VR produces the sensation of being together in one place. This offers major advantages, especially for international companies. At times like these when travel is very difficult, virtual training is the ideal way to meet. Once all the spaces have been prepared for a virtual training session, it is also possible for participants to run through the same training in the same rooms at different times. This makes it possible to arrange VR training at any time. As a result, VR training is a highly flexible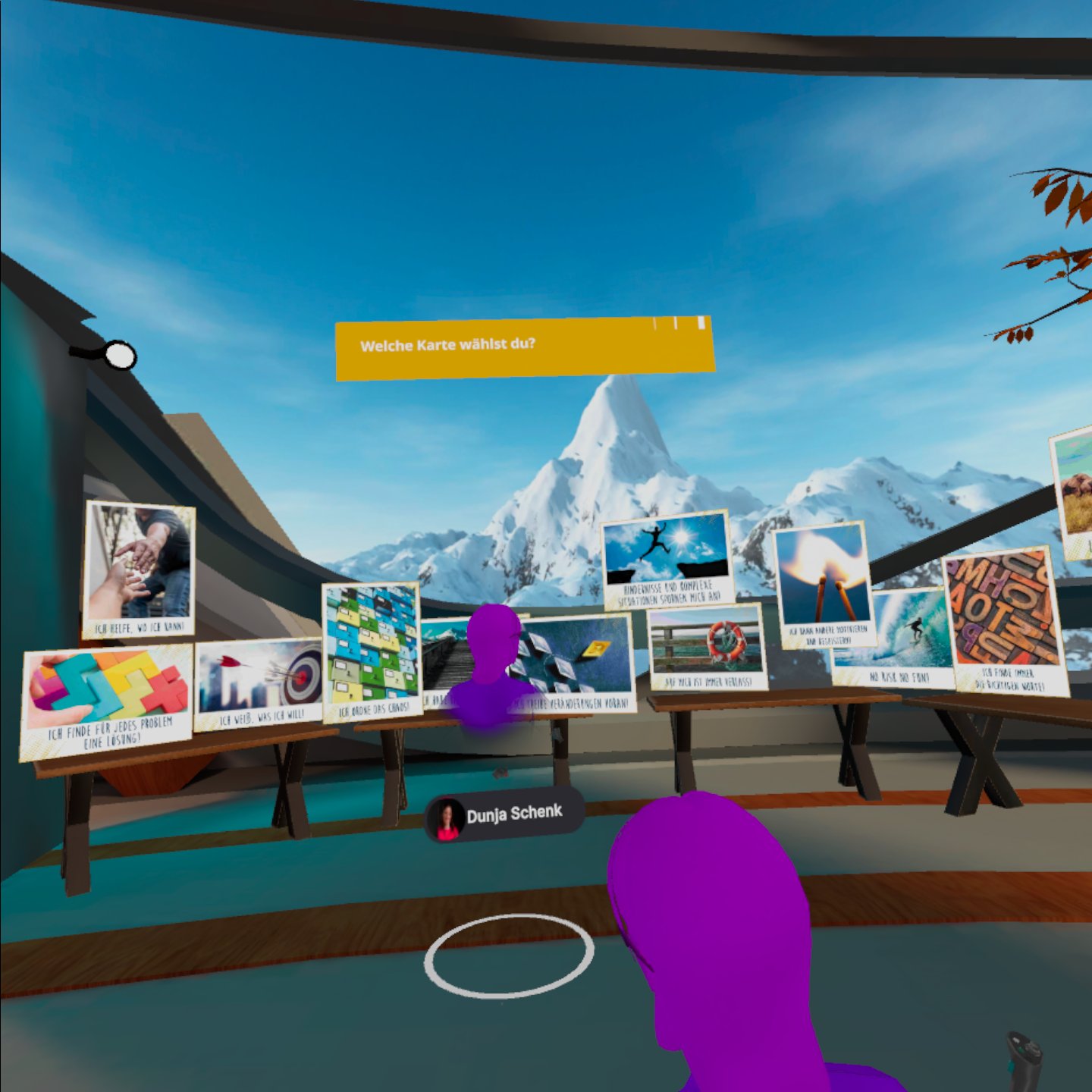 option.
Advantage 2: Versatility
VR training is already used in many sectors. Particularly in medicine or firefighting and disaster services, VR training is an established practice. This makes it possible to realistically simulate situations, develop routines and execute them in the event of an emergency. But virtual reality also offers various options for training and coaching. Using a variety of training spaces, it is possible to address all sorts of topics, create flip charts, play games and accomplish tasks as a group.
An exciting experience
Since 2020 we have also made our first ventures into the virtual world. A few weeks ago, I participated in my first seminar in virtual space. Using a virtual reality headset, I was beamed into the virtual 3D world at the press of a button. And I can honestly say: What an unforgettable experience! When I took off my headset, there was no doubt in my mind: I absolutely MUST offer this to my customers as well.
That's why I completed a course to become a VR trainer in early January 2021 and subsequently became certified after a second training course.
Dr.Thomas Oehler, 21.1.2021
The following trainings can be offered as training in Virtual Reality
Further trainings are currently being prepared and are available on request.